Congratulations on choosing to learn the art of body sugaring! It is hands down the best decision that I have ever taken professionally and I am so excited to train you!! If you have a passion for clean ingredients, gentle and effective services and providing the most comfortable hair removal services possible to your clients….guest what, you are in the right place.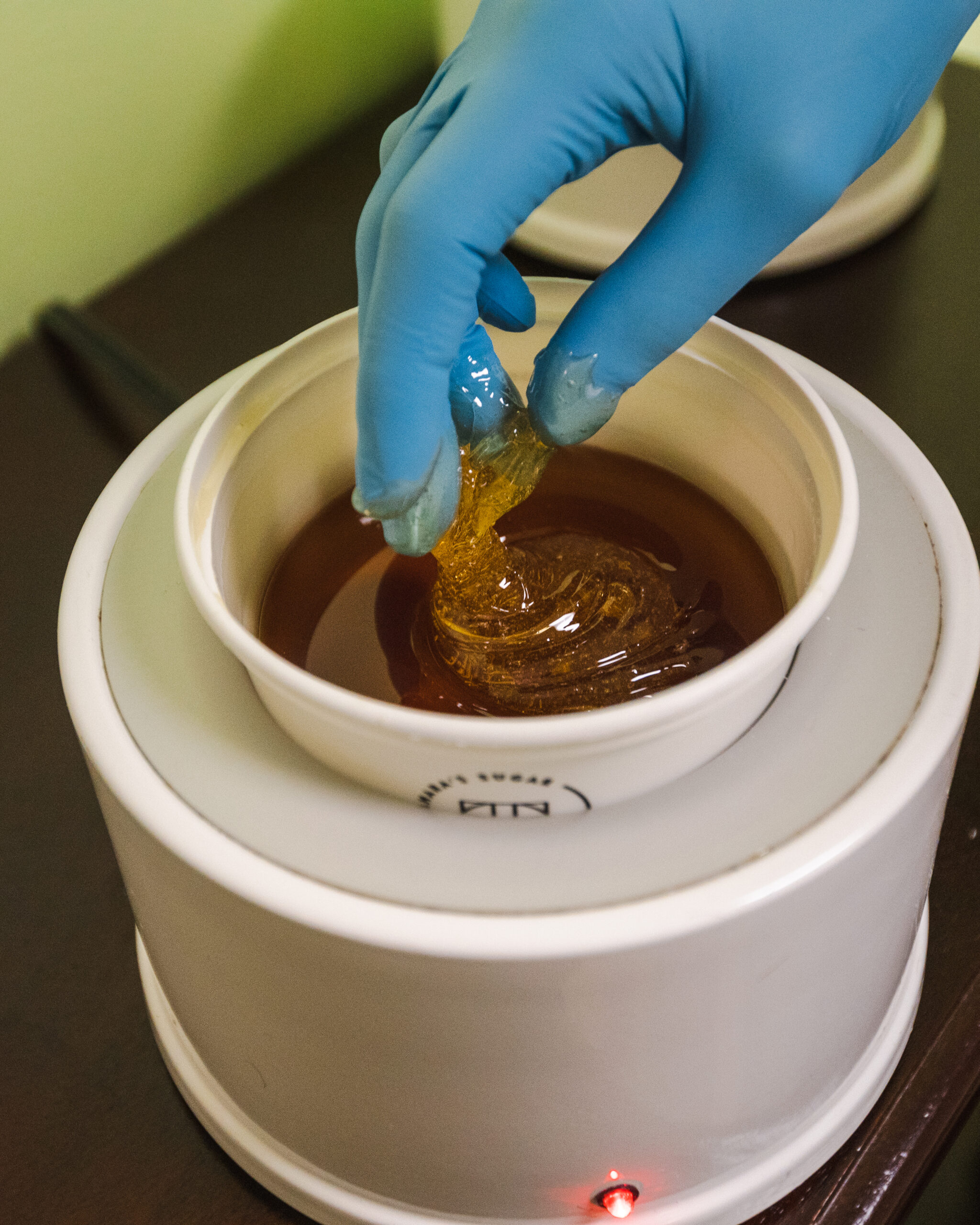 The moment I put my hand in a sugar pot, I knew my clients would be happy. If you are looking to expand your business and build a loyal clientele, let me help you on your journey.
I offer sugaring certification classes to licensed cosmetologists and estheticians. I represent Tamara's Sugar, a Seattle based company with an amazing range of professional products; top-quality sugaring products with the highest grade organically sourced, cruelty-free ingredients. Check us out at tamarasprofessionalbodysugaring.com
Why
Why sugar? Hopefully you already know the answer to this question but, just in case, let's go over the basics. Sugaring is often compared to waxing but it really stands alone as a technique. Whatever you can wax, you can sugar. It's a different route to the same destination. Sugar paste is made from only three ingredients; sugar, water and lemon juice. It is like working with a ball of very thick honey. No ingredients for your clients to be sensitive or allergic to. It is a totally natural product and actually edible…well, until you start your service. Sugar paste is warmed to just above body temperature so it is not hot and will not burn your client's skin. It does not stick to live skin and will not lift skin. Oh, and did I mention that it is also water soluble so clean up is a breeze. A professional sugaring service will reduce discomfort, reduce reaction and diminish ingrown hairs. If you are looking for the most efficient way to remove body hair comfortably then this is it.
When
Classes are two full days and are held about once a month. Our time together is fun, intensive and hands-on. Class is all day, both days. We usually start at 9am and are done around 5pm. Smaller classes with 1-2 students may finish earlier on the second day but no promises as we have a lot to learn.
The next classes are:
May 14th and 15th, 2022
June 18th and 19th, 2022
July 23rd and 24th, 2022
August 20th and 21st, 2022
Contact Tania today to get registered!
Cost
$600 plus tax per attendee. There is also a separate kit requirement so that you have everything you need to practice after class. Kits start at $99.
Where
Location depends on class size. Always in professional space in central Sioux Falls, SD
What
You will be learning techniques that can be used for successful sugaring on all parts of the body for women and for men. You will learn how to adjust your technique for different body areas and hair types. Practice areas for class are certainly at least leg, underarm, bikini. brow, lip and face. We may well work on other areas depending on time. I will discuss the brazilian for positioning, skin prep, service and aftercare. I want to give you as much info as possible on this tricky area so that you have the tools you need to practice, practice, practice.
How
Contact Tania directly at 605 951 8500 if you have questions and to sign up for your preferred class dates.
​
Our mission is to connect with, educate and support our growing Tamara's Professional Sugaring community in the Midwest.